Aegean Paradise Notice
1st & 3rd week of May 2018
Aegean Paradise will be calling at Singapore Cruise Centre (Harbour Front Centre) on 02nd and 16th of May 2018, Wednesday, estimate arriving at 0730hrs.
Passenger alighting at HFC requires to pay a security charge of S$8 each OR additional of S$63 each to remain onboard.
Aegean Paradise shall remains at HFC till 1400hrs departs.
Check-in counter at HFC shall opens at 0930hrs and gate close at 1300hrs. All passenger have to reach HFC by 1245hrs.
Passenger can only start boarding at 1200hrs onwards, light meals will be provided.
Fare from HFC at S$55, except senior citizen above 55 years old at S$35.
First ferry from Tanah Merah Ferry Terminal is at 1620hrs.
First ferry from Aegean Paradise back to Tanah Merah Ferry Terminal is at 1700hrs.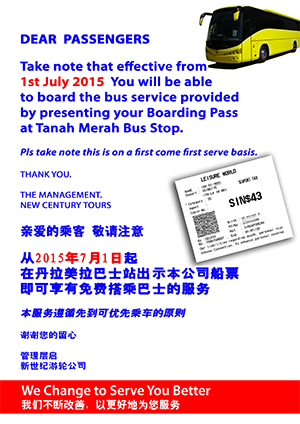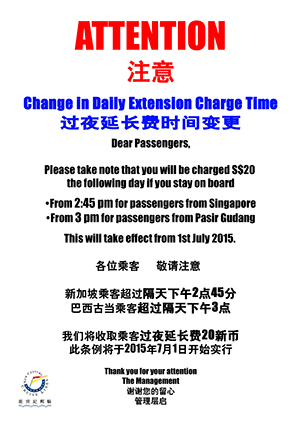 Instagram #AegeanParadiseCruise